Give Them Wings and They Will Fly
Rover Elementary School, Tempe, Arizona
School entry exterior. (4' x 45'… or 180sf) approx. 60sf.
2002
Handmade clay, mixed media, stone, metal.
artist/designer/team.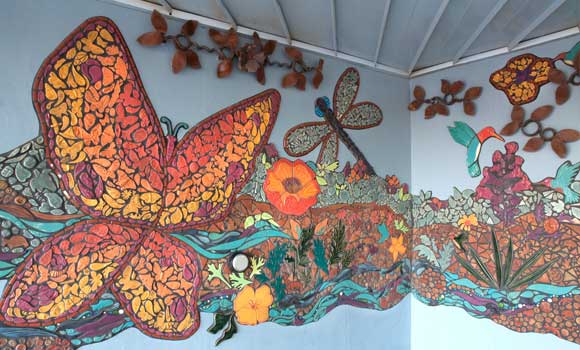 Niki Glen and Helen Helwig worked with Rover Elementary School students, faculty, staff, and community members to create a joyful tribute to Caitlin Benson, a young student with special needs. Caitlin was an inspiration to the Rover Elementary community because she had a positive personality despite her limitations. Located at the entrance to the main school building, the tribute mural is also is a strong example of community building through collaboration and action.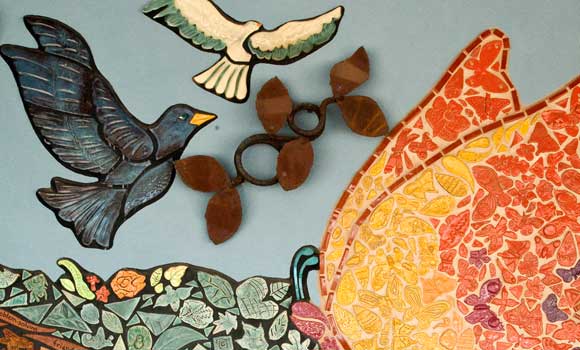 To create a feeling of joy and wonder, Glen and Helwig created larger than life mosaics: giant-sized butterflies, dragonflies, and birds mosaics all fluttering above a highly-textured, mosaic desert landscape. The color purples was also used because it was Caitlin's favorite color. Butterflies were selected because "butterflies have been called the window to the soul and they are beautiful even though they sometimes are only with us for a brief time." And the large mosaic butterflies are made up of smaller butterfly clay pieces- a form repeated within the form.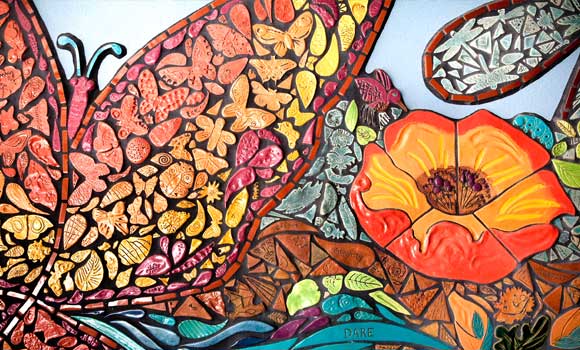 To make this project, Glen invited the community to come together for a tile-making day. Joe Tyler created the metal flowers with leaves for this piece. Different grades made different parts of the mural. And a poem written by her mother is also included in this mural along with eight words describing the values students should manifest in their lives. The process of working together is a powerful message to model to the young people at Rover.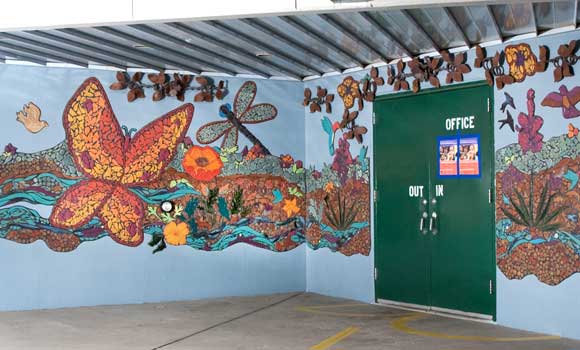 Contributing artists: Helwig, Joe Tyler.