Healing the Spirit: A Journey of Hope
Phoenix Children's Hospital Chapel, Phoenix, Arizona
2002
Organic form mounted on chapel wall- 2' x 16'
Bas relief mixed media mural includes handmade clay, glass beads, stone and turquoise, sculpted clay "pockets", river rock artist/designer/team,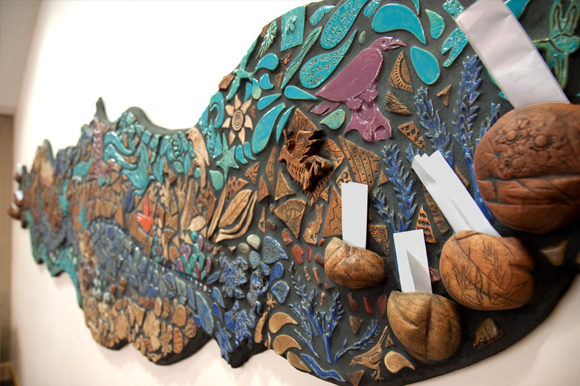 Created for a children's hospital chapel, Healing the Spirit is an interactive artwork to inspire meditation, connection, strength, and serenity. The composition includes unique 'clay pockets' to be used by the visitors to leave messages. Spirituality and hope are represented symbolically by clay birds placed as if soaring above the main images. The artists designed the organically shaped mosaic to include water imagery that flows along the bottom edge, the four natural elements, a great blue heron to evoke calm, a dove, and the phoenix to symbolize growth and new beginnings. Other design elements for the mixed media mosaic includes details of the southwest, flora, fauna, and geology. "The artists are inspired by the small daily miracles of sunsets, the calming effects of running water, and the importance of the surrounding natural world to help soothe and heal" the body, mind, and soul.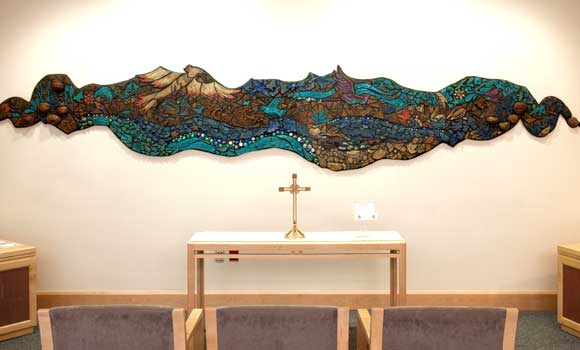 Healing the Spirit was part of a group of projects for Phoenix Hospital funded through the One-percent for the Arts Program. Niki Glen and Helen Helwig worked with students from North High School and Girl Scout Troup 2300.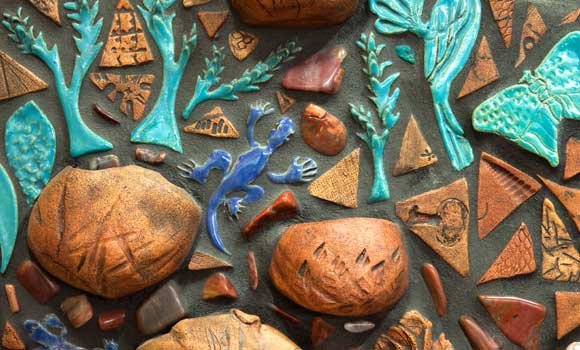 Due to lack of funding, Phase 2 was not built but the idea was to create additional hand-made clay pieces and mixed media art for the chapel. The artists wanted to build on the uplifting and inspiring feeling of the original art piece by creating five clay birds to soar above existing clay mural. As one artist noted about the choice of birds, "their colors, features, flight, and song have created many connections with humanity. The bird represents hope in ancient mythology." For the artist, birds were symbolic of freedom, spirituality, and transformation. "This public art piece will transform the spaces and uplift the viewers."