Hohokam Reflections
Hewson Hohokam Center, Tempe, Arizona
1999
3 sculpted walls varying in size from 5' x 8' x 1'; 9' x 6' x 1'; 12' x 9' x 1'
Approx. 450sf total area including 75 sf ceramic tile and 225 sf cultured stone.
Handmade clay mosaic, cultured stone, stucco, river rock, textured dry vit, and steel .
artist/designer/team.
Award: Tempe Beautification Award for Art in Private Development, 2000 .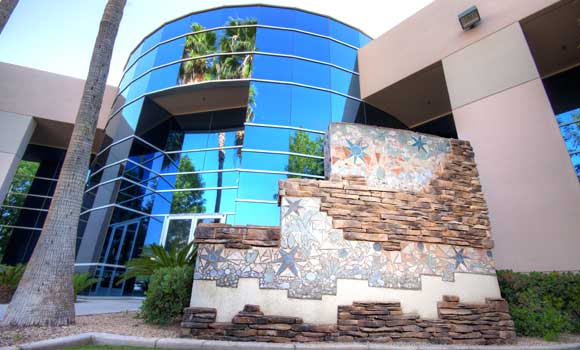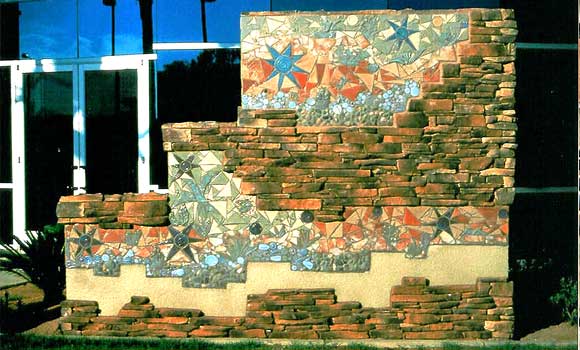 Three sculpted walls by Glen and Helwig frame and enhance the façade of the Hewson Hohokam center. The two artists worked closely with the architects, building owners, and engineers to create a site specific art piece that is uniquely "Arizonan" and complements both the architecture and the environment.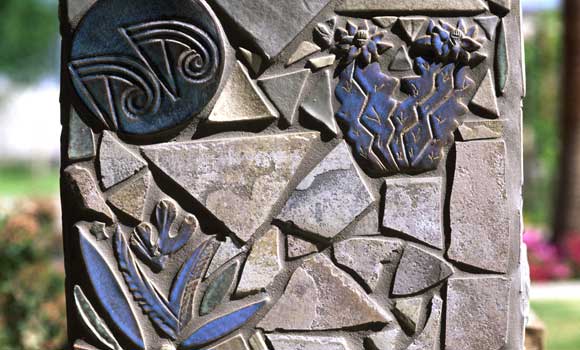 The colors, textures, and shapes of the handmade clay tiles were inspired by the ancient Hohokam Indian culture of the area, the native plants of the Sonoran Desert and the Rio Salado riparian system, as well as the architectural and landscape elements of the site. The title refers to both the ancient Hohokam culture and the glass entrance as it reflects the sculptures. The layered composition of the sculptured walls represents striations within the earth and connects the past with the present. And the overall mountain shape of the sculpted walls references the region.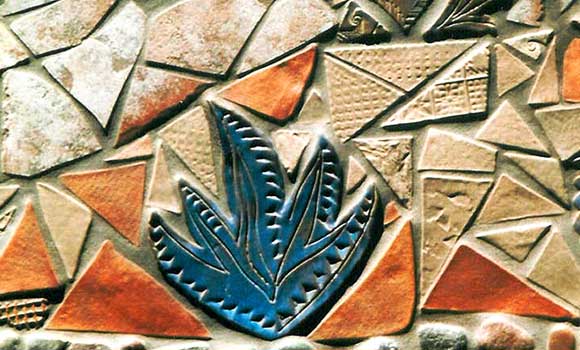 There are many references to Hohokam culture. The orientation of the sculptures reflect the importance of the four cardinal directions: North, South, East and West to early cultures in Arizona. Symbols of sun, corn, and stars were used by the artists to show the appreciation for the natural environment. The native peoples used everything and nothing was wasted. In this tradition, many of the stones embedded in the mosaic are the ones dug up from the ground during excavation. Reference to the importance of water to the Native Americans for food and living in the desert are depicted throughout the composition.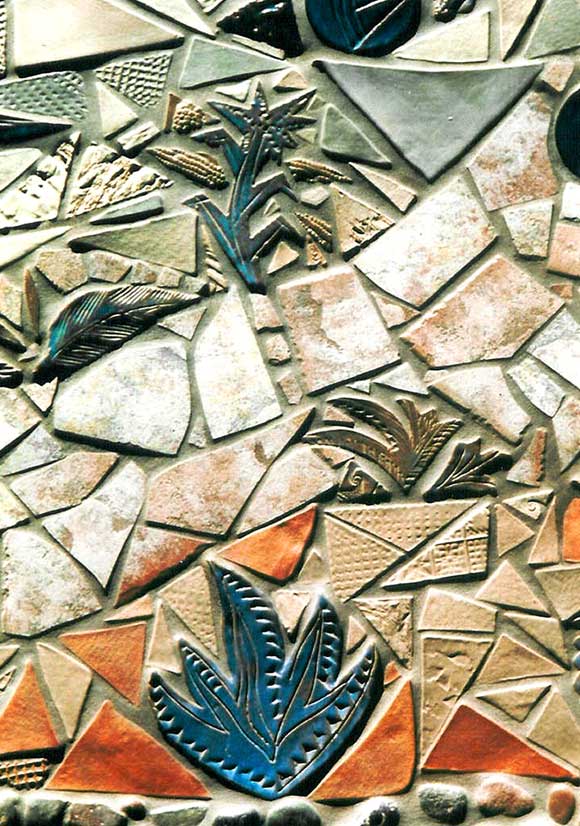 As the sun moves according to the days and seasons, the cast shadows change and add another intentional dimension to the work. The colors also reflect the surrounding architecture. A limited palette enhances the unified color scheme utilizing repetition of shape, form to create balance and harmony.