Music a Gift to Share
1994
Moon Mountain Elementary School, Phoenix, Arizona.
Panels 4' x 8 '
Acrylic on Masonite Panels.
Director/designer.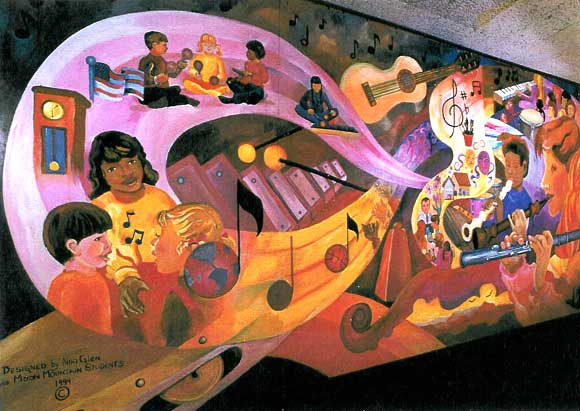 This mural was created for and by students in remembrance of a favorite school teacher, Linda Bartz, who died from cancer. Students worked with Glen to define the theme and create the design. Glen asked the students how they would like to remember their teacher, and these images were then incorporated into the design.
The Phoenix Suns (her favorite team) and the flute (favorite instrument) are two examples of images included in the mural. The creative process served as a source of healing for the Moon Mountain students. And the artist also got into the grieving process by remembering someone she lost… the process was just as important as the product.
The mural project was commissioned by parents and faculty to honor the teacher and to provide the students with an outlet for grief.