Prairie Tillers
Whitewater, Wisconsin.
1980
30' x 50'
Acrylic enamel on Brick.
With Caryl Yasko,
Artist/co-director/team.
"Unique to this mural, Prairie Tillers, is the combination of painting and sculpture as artists Glen and Yasko included hand-molded concrete embedded with farm implements, pottery shards, locally found objects, and Native American designs. The mural celebrates life in the Kettle Moraine- the glaciated hills and valleys in southeastern Wisconsin within which the town of Whitewater was born. The celebration of history is represented by the many activities and events that have shaped Whitewater's past and present.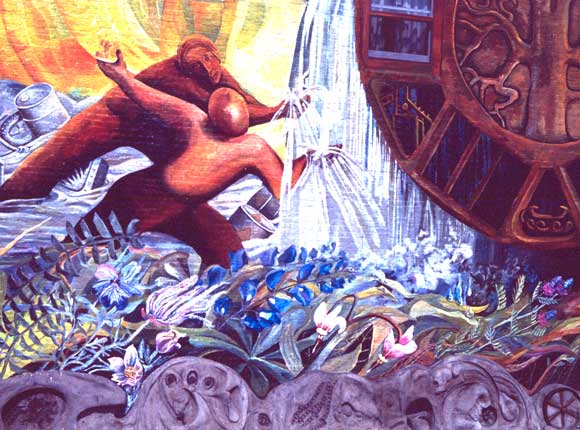 The dominant image is an enormous water wheel from which the rest of the mural evolves. The historical theme evolved from discussion with business people and local residents who identified three main developers of the Whitewater community. These developers of the community are shown using the water wheel throughout time: the early Native as represented by the Pottawattami Indians, the Settler as represented by an elderly woman, and the contemporary man shown pushing the water wheel.