Reflections of Surprise
Northwest Regional Library, Surprise, Arizona
2008
12' x 78'
Mixed media mosaic with handmade clay tile, glass, metal, and stone
artist/designer
Recognition: Sign Builder Magazine, Sept. 2008
Best of the West Honorable Mention Award 2008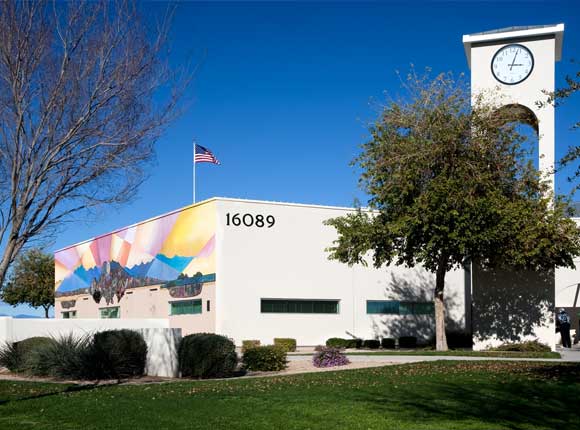 Designed by Glen, Reflections of Surprise depicts the history and community of Surprise, Arizona. The large bas relief mosaic, which spans the outer west wall of the library, incorporates colorful clay and glass tiles with metal work by Joe Tyler. As part of her creative process, Glen hosted community meetings to generate ideas and mosaic-making workshops to create clay pieces for the mural. Over one hundred residents participated along with the Grand Clay Club, a local clay art group. This mixed media project shows Glen's approach to public art- a process of evolution through public discussion and participation.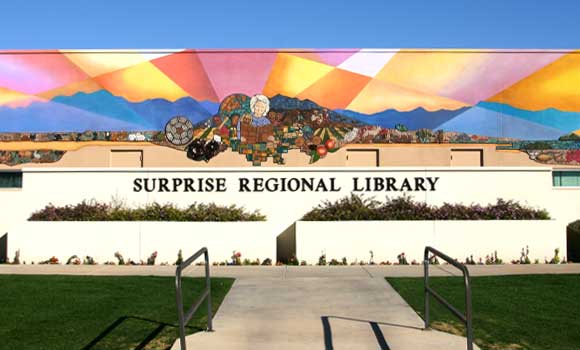 The central mural image is a woman reading to two children. Surrounding the central image are other elements defining Surprise. The mural incorporates clay renditions of Native American baskets, petroglyphs, and local agricultural elements such as roses, citrus and cotton. Other images suggested by participants and included in the mural are: native flora and fauna; a tractor to symbolize agriculture; the city lake; a representation of a family; a person riding a bike; the White Tank Mountains; a sunset; Luke Air Force Base; and canals. With the endorsement and enthusiasm of the city, the collaborative art project grew to include the museum, library, schools, and local business people.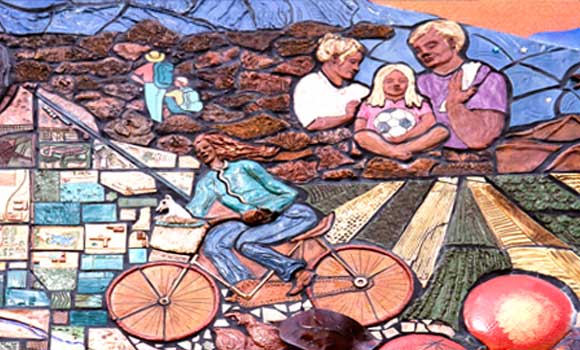 The project was funded from 1% of the library's total building cost that was dedicated to the arts.
Contributing artists: Roger Merritt (airbrush), Marilyn Romaine (glass), Lucy McEvilly-Schwab (metal)