Butterfly Garden Bench
Laird Elementary School, Tempe, Arizona
1999
2' x 2' x 6'
handmade clay mosaic bench.
artist/team.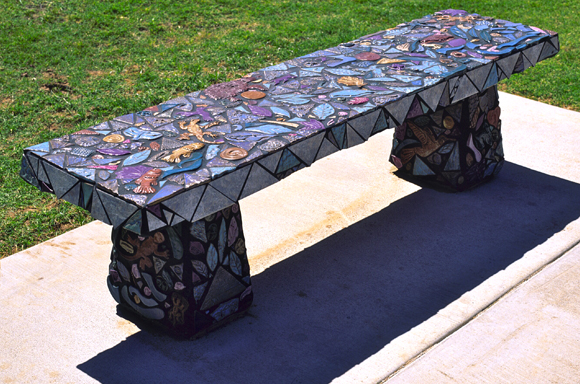 To complement a bird habitat and butterfly garden, Glen and Helwig designed and mosaiked a tile bench with the Tempe Leadership Organization (TLO) Class 14 and community members. The TLO are people in training to be in the Chamber of Commerce. As part of their training and leadership development, they get involved in a community activity to make improvements- in this case a mosaic project for a low income school.
The bench was covered with bright ceramic pieces in all different shapes and textures. There are lizards, turtles, and more desert creatures. The unified color scheme creates a contemplative and relaxing atmosphere. The bench transforms the area with color, texture and form. The project was designed to enhance the school grounds, relate the butterfly garden, and was a meaningful community service project by the TLO (Junior Chamber of Commerce of Young Adults).