Cultural Connections
Phoenix Public Library- Harmon Branch, 411 W. Yavapai, Phoenix, Arizona.
1998
4' x 8' on concrete board.
materials: handmade clay tile mosaic.
artist/co-director/team.
Cultural Connections: Harmony, Community, Creativity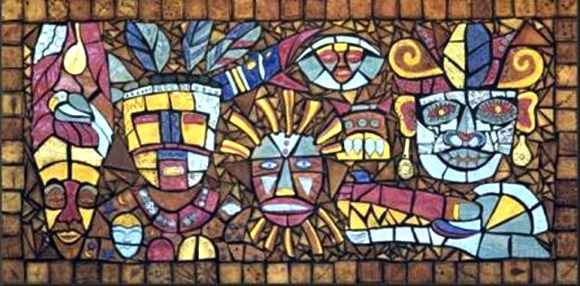 As a cooperative effort between two schools and two artists (Glen and Helen Helwig), this mural was designed and created with teachers and 200 students from Lowell and Heard Elementary Schools. The mosaic project was created during the 1997-98 school year by students in art classes, and completed in partnership with the Phoenix Public Library and Phoenix Elementary No. 1 School District. The librarians and local residents worked with the artists to create a theme for the community garden in the library courtyard. The artist used different kinds of masks to reference the different cultures that make up the community surrounding the Harmon Branch Library. The various cultures include: Yaqui, Hopi, Aztec/Mayan, African, and Asian/Thai. Marks were also influenced by the artist Max Ernst. The artists came up with the idea of creating a mosaic showing masks with "roots in nature"- clay tiles around mural with impressions of plants and natural objects. Glen and Helwig came up with the design and gave drawings to the elementary schools for them to make the clay pieces. The artists designed a clay composition that would enable 5th-7th grade students to create pieces with an emphasis on texture, sculptural relief, and plant impressions. The mosaic project is important because it creates a real sense of connection with the past and allows participants to share this connection with their present community.